OUR 360º IMPACT
The 360 impact allows us to use only recycled materials and keep them in circulation for as long as possible without destroying or throwing them away.
We are committed to continuously improving our operations and considering all aspects of sustainability. As part of this commitment, we prioritise the circular economy, which involves using resources efficiently and reusing them whenever possible.
MATERIALS
Our primary raw material is cotton cuttings, meaning that our products are made of 100 % of recycled fibres, containing 60 % recycled cotton and 40 % recycled polyester made from recycled bottles. In addition to the environmental benefits, we also emphasise durability, quality, and timeless design. Our products offer the same quality and comfort as similar products made from virgin materials. 
We have calculations, by Remo BV, of the total carbon- and water footprint of our production chain and logistics. The exact calculations are available here. Our products consume 99% less water; our carbon emissions are about 50% less than equivalent products manufactured from virgin materials. In addition, the overall consumption of energy decreases by 50%.
Each of our T-shirts has a water footprint of 1.2 litres and a carbon footprint of 1.1 kilograms. The figures for a product manufactured from virgin materials are 1,426 litres of water and 2.1 kilograms of carbon dioxide (CO2e).
We have a calculation method we can be proud of, thanks to Remo BV, mainly as it shows our carbon footprint. The differences are startling and show how using recycled materials can spare natural resources and reduce emissions.
Using recycled materials instead of virgin fibres, we have already saved 4 907 070 999 litres of water and 3 091 056 kilograms of CO2e emissions (December 2022). We have recycled 652 793 kilograms of textile waste and given it a new life as clothes.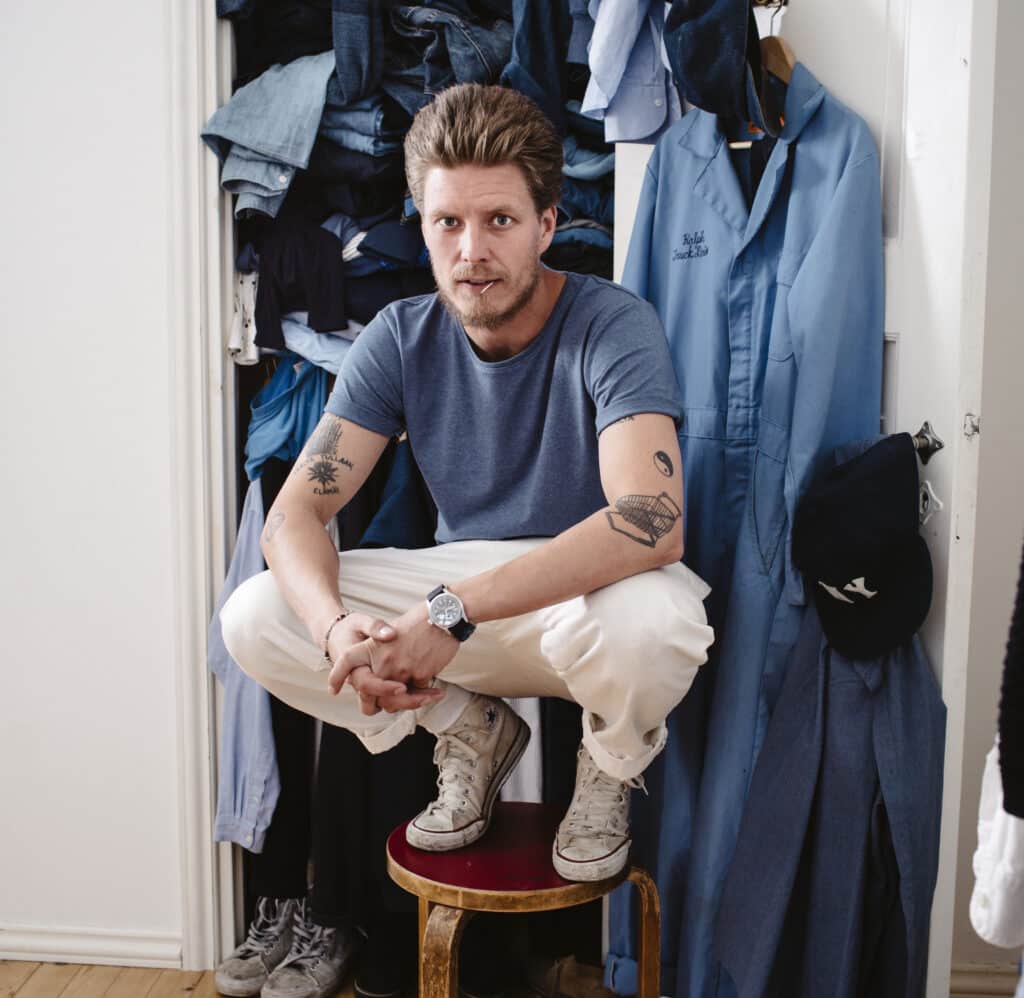 POST WASTE
With Post Waste collection, we wanted to show that post-consumer textile recycling is possible commercially. We launched the collection in 2019 with garments made of 100% recycled fibres with a 20% content of discarded and worn-out clothes.
Back then, we agreed to move towards using post-consumer materials where waste would be refined and treated in the same location as where it is collected.
PRODUCT DESIGN
We design and manufacture classic products with a long lifecycle. The basic idea is to produce designs that keep the product selection compact and easy to manage.
Product development often leads to small batches of unique fabrics or colours. We strive to use all the materials we produce and design special edition collections from these product development yarns and fabrics.
We avoid unnecessary parts and details and plan our products to be easily recycled. In 2020, we removed the safety pins used in hang tags from our products.
We use recycled cardboard for hang tags and recycled polyester for product labels and size tags. The cords are produced of the same recycled yarns but from discarded cone remains.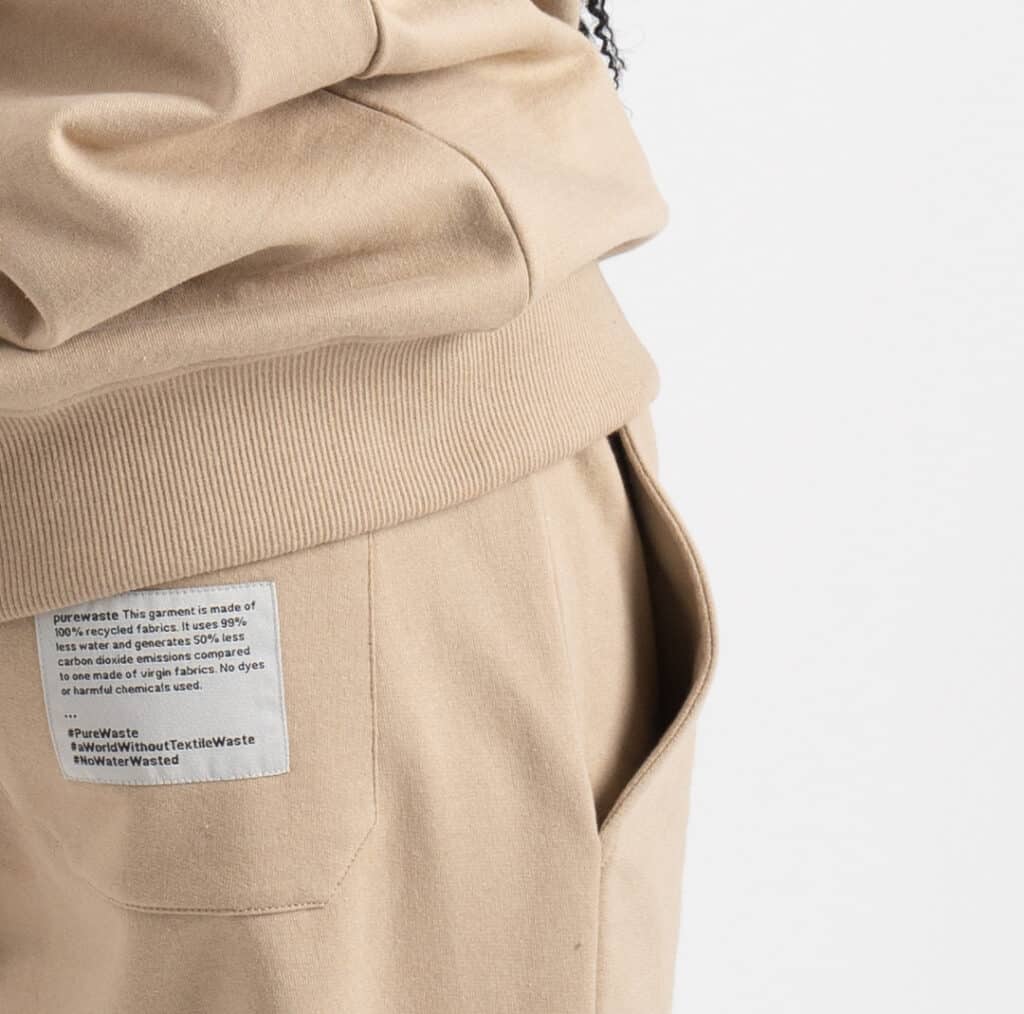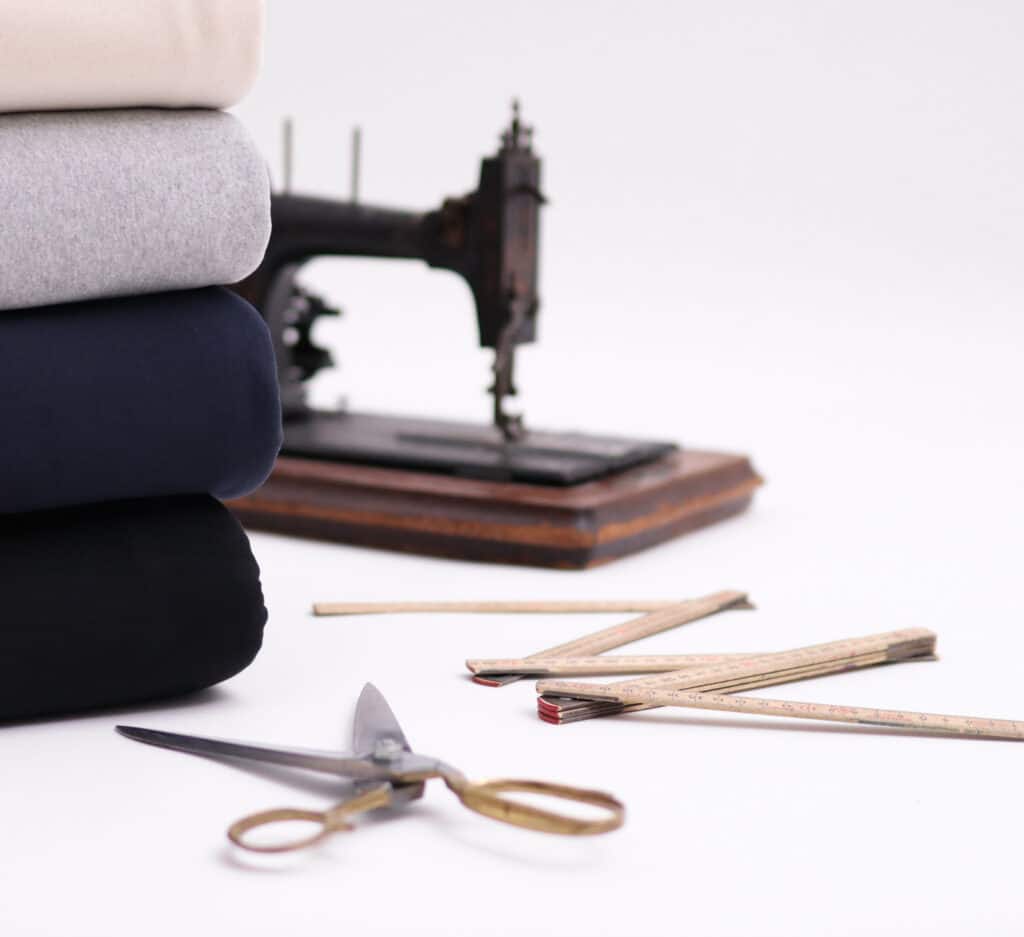 GARMENT CARE
Clothing care is an essential part of clothing durability but, unfortunately, often underestimated. We have gathered comprehensive instructions for how to take care of our products in an environmentally friendly manner while considering the consumption of water and energy and the use of toxic chemicals.
TAKE-BACK SYSTEM & RECYCLING OF OLD CLOTHES
We reduce the impact by committing to take back our used products that have reached the end of their lifecycle. In 2020, we recycled all of the clothes returned by our customers: a total of 935 kilograms. We recycled these clothes into a new fabric as part of a test batch in the Telaketju II project. In 2021, we turned the material into test products. We will deploy this operating model in the future.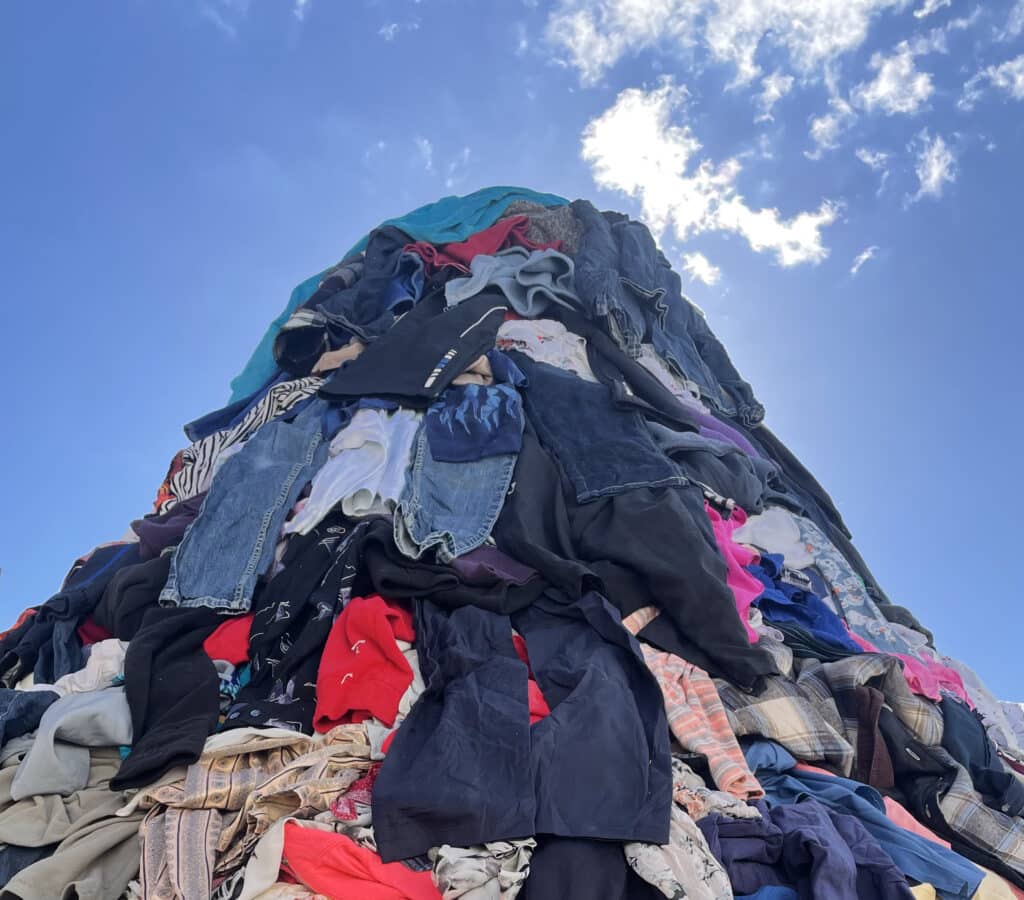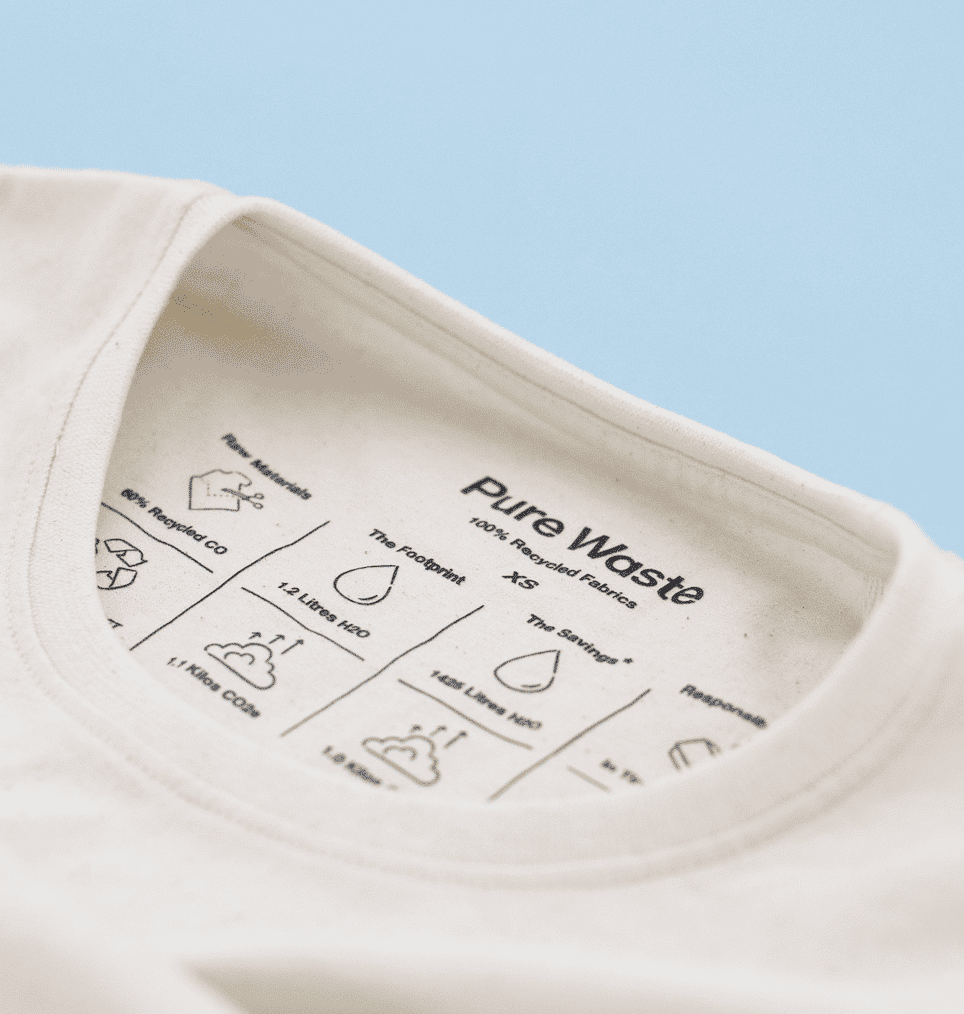 IMPACTS VISIBLE
Even though we only use recycled natural resources when manufacturing our products, we must recognize that the production of all clothing consumes natural resources. Producing material (or even intangible) consumes energy.
We went for a more honest way of marking our garments in 2021 with product-specific footprint calculations and showing the consumers the actual impact. Every item on our webshop is also marked with personal footprint calculations emissions.
OTHER MATERIALS
We do not restrict the use of recycled materials to just fabrics or clothes.
For packaging, we use cardboard boxes made of recycled cardboard, paper bags made of recycled paper, RePack mailing bags that are reusable and made of recycled materials and plastic bags made of recycled polyethene. We do not pack products in individual plastic bags, which is the general custom in the clothing industry. We use larger bags that fit 10 or 15 products. Thanks to this method, we use 75% less plastic on average.
At the end of 2020, we stopped using almost all new cardboard boxes and started reusing the recycled cardboard boxes arriving from our factory in India. Because of this, we managed to reduce the amount of purchased cardboard by approximately 90% annually.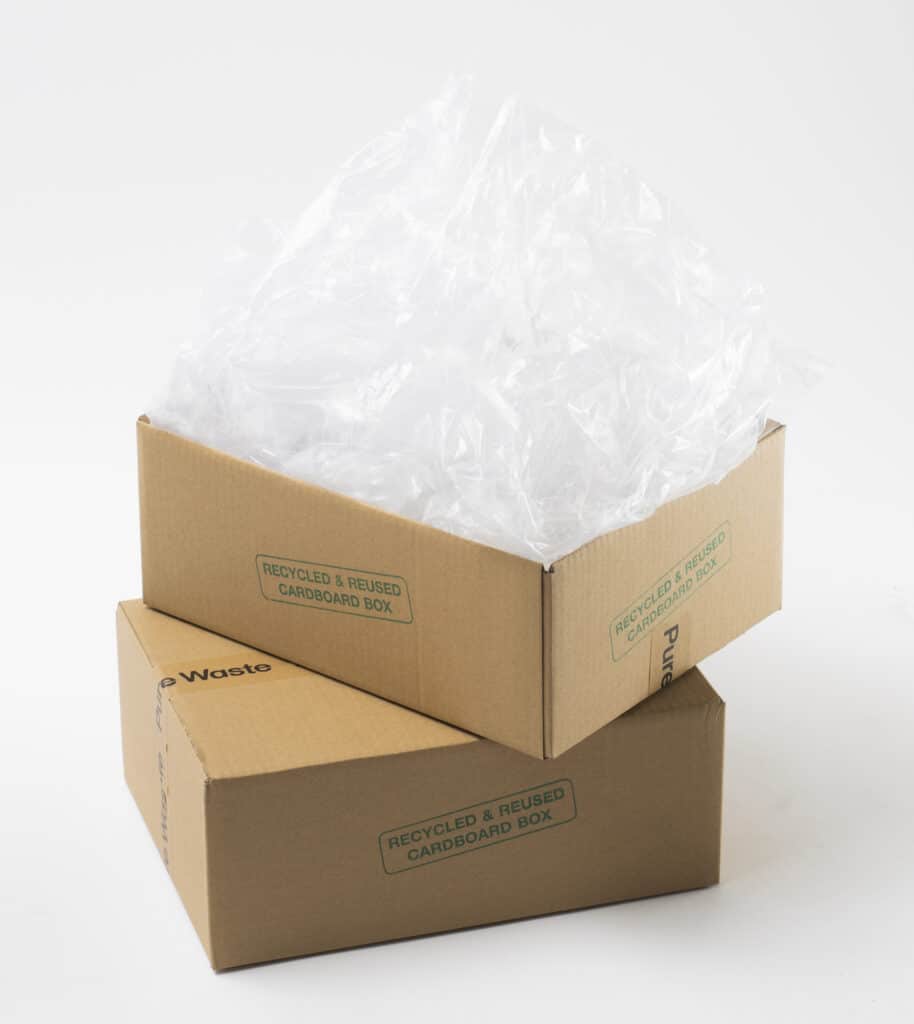 We see it as important to share our knowledge and what we have learnt. In addition, it is important that we maintain a culture of continual learning and development. We have achieved a lot, but we are in no way ready.