In 2010, five friends started a mission to produce 100% recycled textiles when none existed on the market. It took them three years to perfect the process of utilizing textile waste as raw material, and in 2013, Pure Waste Textile was born in Helsinki, Finland.
From the outset, the company set out to collect textile waste from various sources and use mechanical recycling technology to recycle it into high-quality yarns and fabrics. The vision was to produce sustainable textiles for the fashion industry and become the Gore-Tex of sustainable materials.
However, they soon realized they needed to raise awareness from the ground level to achieve this. In 2014, the company launched its first product, the t-shirt, followed by a full product line in 2015, which included t-shirts, sweaters, and hoodies made from recycled materials.
Since then, Pure Waste has continued to expand its product line, offering a wide range of sustainable garments for men, women, and children, both for consumers and companies. The company's commitment to sustainability has transformed its practices, set a new standard for the industry, and inspired others to follow suit.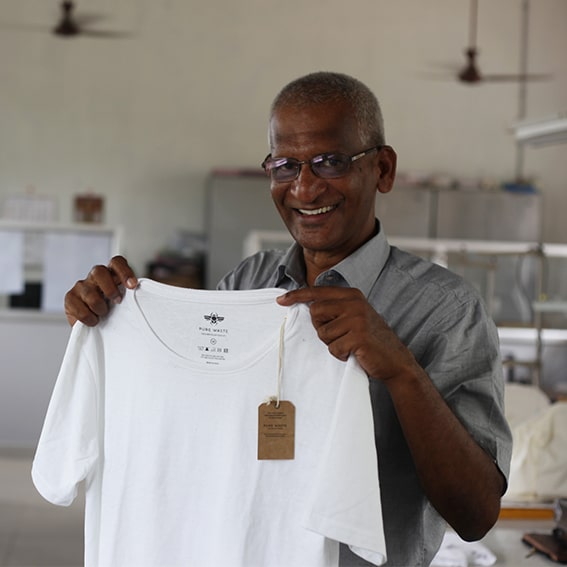 The First T-shirt
We started testing recycled fabrics by producing denim fabric in China, but we soon realised that achieving the required quality and scale with recycled fibres was impossible. We had to search for a new partner and found one in India, eager to become a partner at Pur Waste Textiles and take charge of operations in India.
Under the guidance of Mr Wenkat, who still serves as the factory director, we expanded our operations in India. In this picture taken in 2014, Mr Wenkat proudly holds up our first t-shirt at the old factory in Palladam. This partnership allowed us to scale up production and improve the quality of our recycled textiles, paving the way for our continued growth and success.
Waste Side Story
In 2014, we organised our first Waste Side Story fashion show during Helsinki Design Week. The fashion show highlighted Finnish designers and demonstrated the versatility of Pure Waste fabrics made from recycled materials. Our goal was to raise awareness about textile waste and the importance of reducing it while showcasing sustainable fashion alternatives. Additionally, the show's production reflected our commitment to sustainability by using reusable decorations and eco-friendly lighting and construction.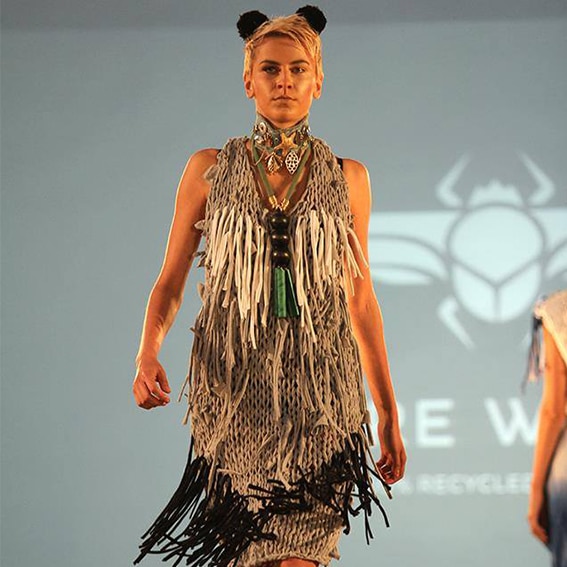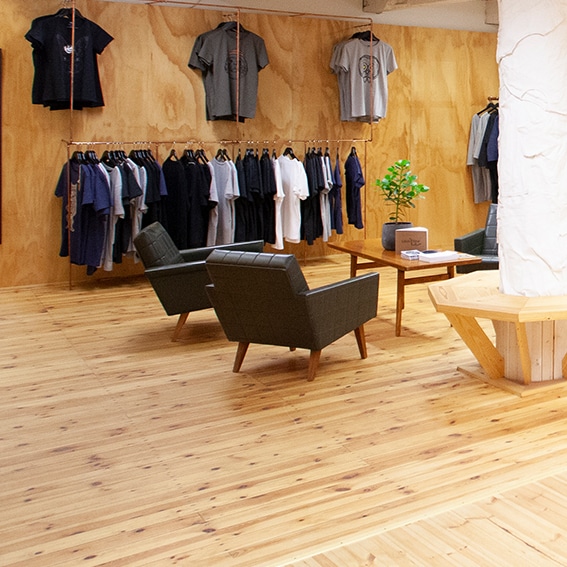 Flagship Store
The Pure Waste Concept Store debuted in May 2015 on Yrjönkatu 34, Helsinki, Finland. The product line included t-shirts, sweaters, hoodies, jeans, and other co-branded items made from recycled textile waste, offering customers the same quality and comfort as those made from virgin materials.
Pure Waste Germany
After achieving success in Germany with our hat brand Costo, we also set our sights on expanding Pure Waste to the German market. We were fortunate to find a brand ambassador in Germany who shared our vision for sustainability. This partnership has raised awareness and presence in the German market, especially among b2b customers. Our shared goal is to promote using recycled materials in textile products and make Pure Waste well-known in Germany as a sustainable clothing brand.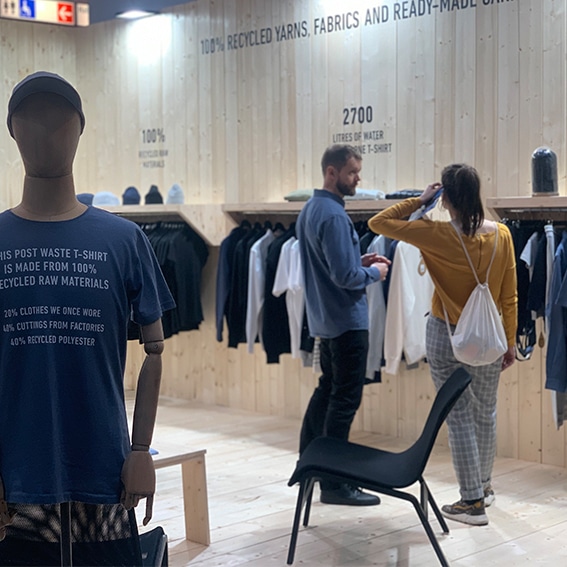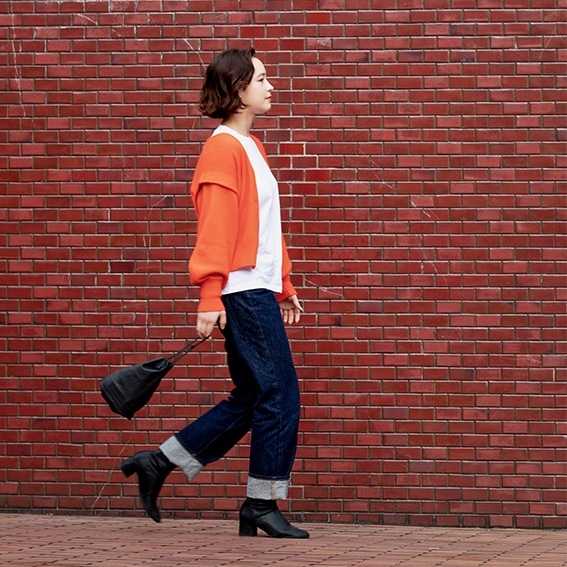 Pure Waste Japan
After making a successful debut in Japan with our hat brand Costo, we were inspired by the country's culture and believed Pure Waste would perfectly match the Japanese market. Despite several years of unsuccessful attempts, in 2019, Sanyei Corporation discovered us and started collaborating to expand our presence in Japan. The partnership has enabled us to produce Japan-fit products specifically for Japanese consumers while Sanyei distributes our garments also for wholesale and B2B markets. Our shared mission is to raise awareness about the importance of using recycled materials in textile products and to establish Pure Waste as a sustainable clothing brand in Japan.
Post-Waste
In 2019, we launched the Post Waste -collection, the world's first clothing collection made of 100% recycled fibres with a content of 20% post-consumer waste — discarded and worn-out clothes. Our goal was to move Finnish textile production towards using post-consumer textiles, with a long-term vision of a future where used textiles are collected and recycled into new products instead of ending up in landfills.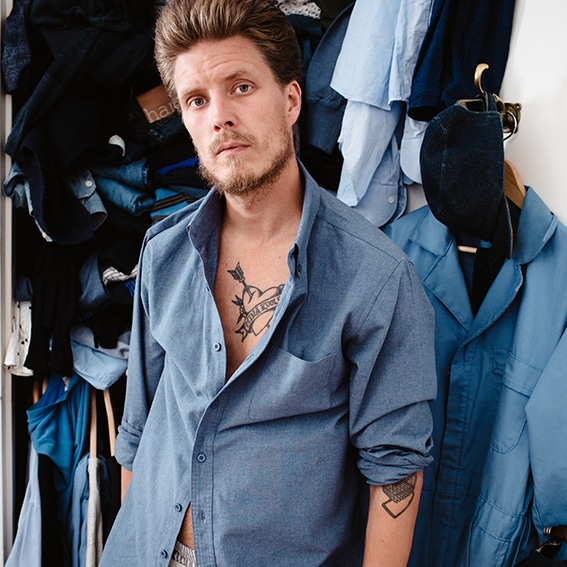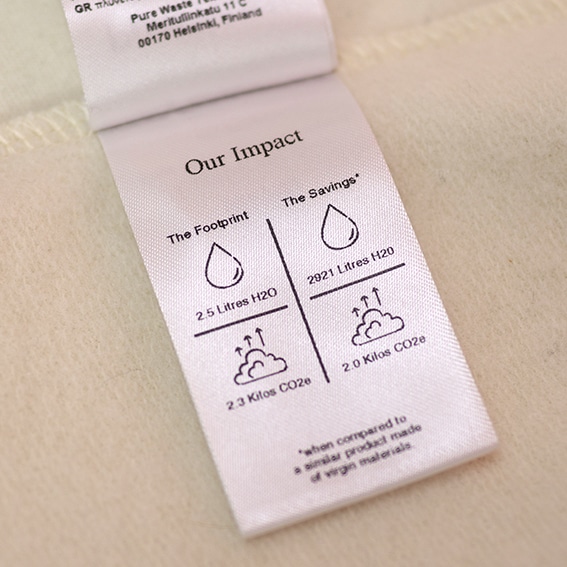 SITRA
In 2021, SITRA, the Finnish Innovation Fund, recognized Pure Waste Textiles as one of Finland's most interesting companies in the circular economy based on its innovative use of recycled materials in textile production. Pure Waste's commitment to sustainability and circular economy principles aligns with SITRA's vision for a more sustainable future. It has helped us to raise the company's profile as a leader in the sustainable fashion industry.
A Recycling Facility in Finland
Our dream came through in 2019 when Rester Oy, a Finnish company playing a significant role in the country's recycling future, was established with the involvement of Pure Waste Textiles and other key players in the industry. Rester Oy is dedicated to finding innovative solutions to reduce textile waste and increase the circularity of textile production. Through its cutting-edge technology and commitment to sustainability, Rester Oy is helping to drive the development of the circular economy in Finland and create a more sustainable future for all.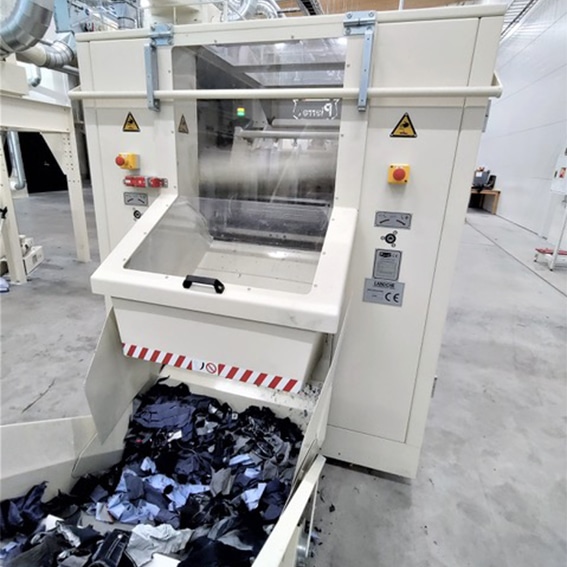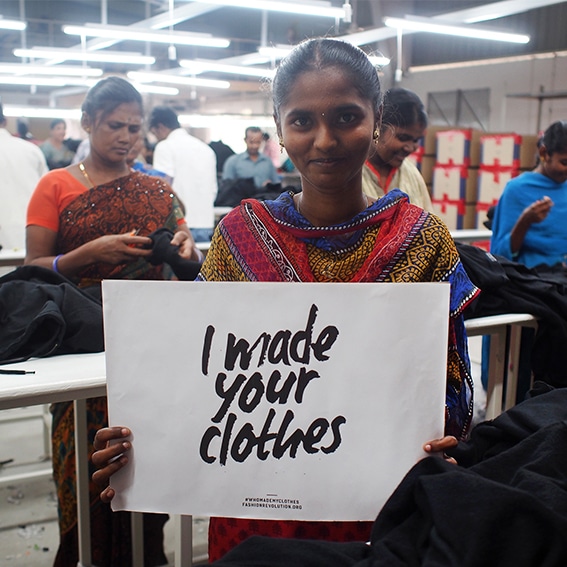 A-grade Responsibility
Pure Waste was ranked A-grade by the Finnish NGO Eetti Ry's consumer ranking organization, Rank-a-Brand, in their 2021 assessment. The ranking evaluates the sustainability and transparency of fashion brands based on their environmental and social policies and labour conditions. Pure Waste's commitment to using 100% recycled materials and promoting circular economy principles contributed to its high score and recognition as a leader in a sustainable fashion. Additionally, the 2021 assessment showed a positive trend towards more sustainable practices in the fashion industry, with no company receiving a score of zero.
The Drops -Collections
In 2022 we responded to the increasing demand for more sustainable clothing options by launching a new collection called Drops. The idea of Drops' garments was to release them in a couple of batches a year, forming a unified collection that transcends seasonal boundaries.
The changing colours, new fits, and limited availability distinguish these products from our existing collection.
In summary, the Drops collection offered customers stylish and eco-friendly options reflecting Pure Waste's commitment to promoting circular economy principles and reducing textile waste. With limited availability and unique features, Drops encourages conscious consumption and offers an alternative to fast fashion and consumerism.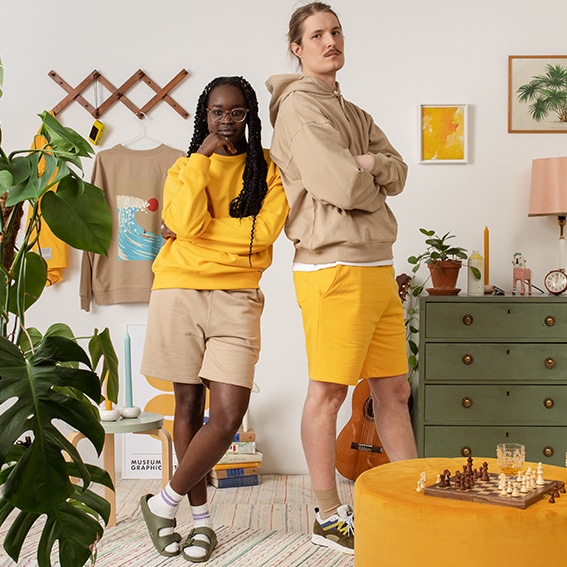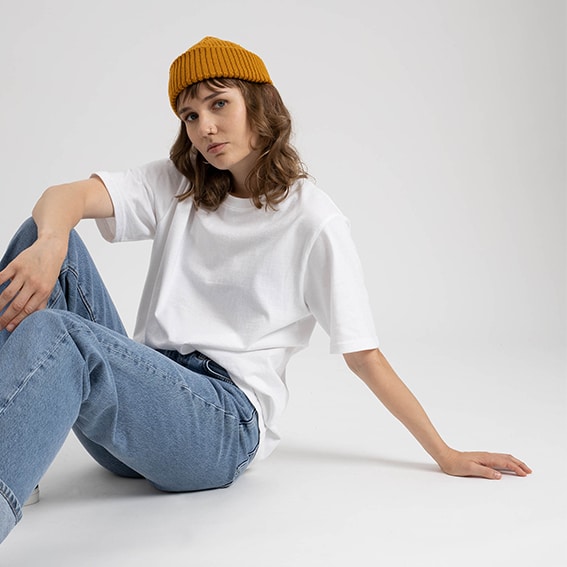 The Most Responsible Shirt
We won the title of the most sustainable shirt in Finland in the Suomen Vastuullisin Tuote (Finland's Most Responsible Product) competition in 2022. The competition evaluated products based on their sustainability and social responsibility. Pure Waste's 100% recycled material shirts received high marks for their innovative use of materials, commitment to reducing textile waste, and ethical production practices. Winning the award reflects our dedication to promoting circular economy principles and reducing the fashion industry's environmental impact.
We want to thank every people and organisation who joined us on our journey towards a more sustainable future over the past decade. Your support has been instrumental in our success, and we appreciate your commitment to making environmentally responsible choices.
As we enter a new decade, let's continue to work together to make conscious decisions, both big and small, and create a brighter future together.