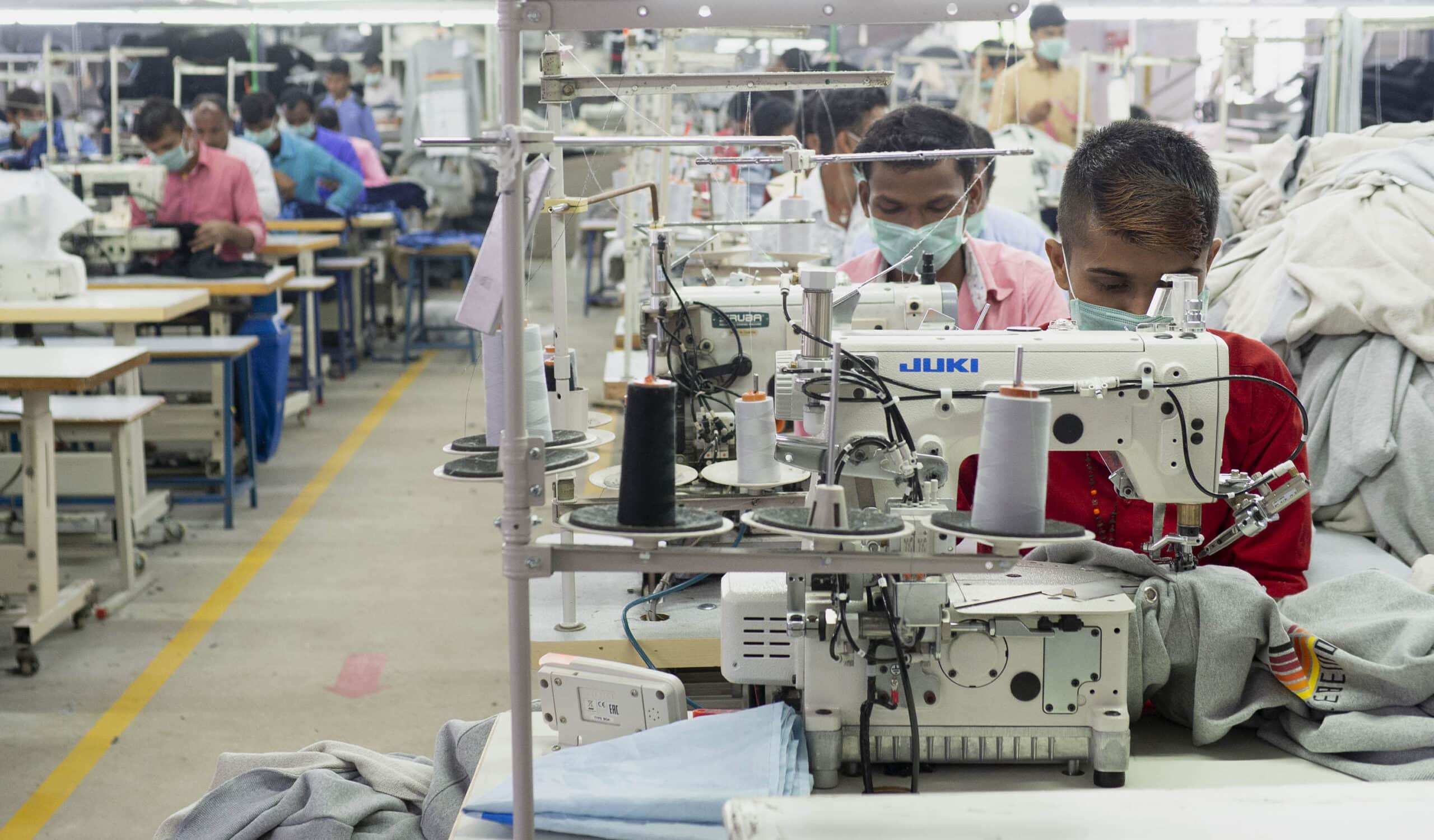 Uusia vaatteita pidetään usein harmittomana hemmotteluna ja mahdollisuutena ilmaista itseämme. Monikaan ei tule ajatelleeksi, että muodilla on pimeä kääntöpuolensa, joka aiheuttaa paljon ongelmia aina ympäristökuormituksesta ihmisoikeuskysymyksiin.
Tänä vuonna tulee kuluneeksi kahdeksan vuotta siitä, kun 24.4.2013 Bangladeshin Dhakassa romahti kahdeksankerroksinen tehdasrakennus, Rana Plaza. Onnettomuudessa kuoli yli 1100 työntekijää ja loukkaantuneita oli noin 2500.
Tehdasrakennuksen romahdus synnytti vaatevallankumouksen (eng. Fashion revolution), jonka tarkoituksena on tehdä vaateteollisuudesta vastuullisempi ja läpinäkyvämpi.
Meille on erittäin tärkeää tuottaa laadukkaat kierrätysvaatteemme huomioiden sekä ekologinen että sosiaalinen vastuu. Viestimme toiminnastamme myös avoimesti.
Vaatteen todellinen hinta
Noin 75 miljoonaa ihmistä ympäri maailmaa työskentelee vaateteollisuudessa. Useimmat heistä elävät köyhyydessä.
Hankkiessamme uusia vaatteita pysähdymme harvoin ajattelemaan, mitä joku toinen on tehnyt vaatekappaleen vuoksi. Ensin tuotetaan raaka-aine, josta valmistetaan kuitua. Tämän jälkeen kuitu kehrätään langaksi ja kudotaan kankaaksi. Kangas siirtyy viimeistelyjen jälkeen ompelimoon, jossa siitä ommellaan vaatteita ja viimein vaatteet kuljetetaan määränpäähän markkinoitavaksi ja myytäväksi.
T-paidan, jonka hinta on parin euron luokkaa, pitäisi laittaa hälytyskellot soimaan; kaikki paidan tuotantoketjussa eivät ole voineet saada reilua korvausta työstään.
Kuitenkaan hinta ei yksin määrittele tuotteen vastuullisuutta, eikä vastuullisen muodin tarvitse olla kukkaron nyörejä venyttävää. Meiltä usein kysytäänkin, kuinka t-paitamme maksaa vain 19,90 €? Vastaamme kankaan valmistuksesta itse, eikä tuotantoprosessissamme ole ylimääräisiä välikäsiä, jonka vuoksi pystymme pitämään Pure Waste tuotteiden hinnat kilpailukykyisinä huolehtien samalla tuotannon vastuullisuudesta.
Kuka on valmistanut Pure Waste vaatteesi? Vivian, Jagannath, Venkat - ja moni muu!
Tie kaartelee värikkäiden maisemien lomassa, tehtaan pihalle saavuttaessa ei uskoisi saapuvansa ompelutehtaalle, sillä pihalla komeilee palmut ja tunnelma on rauhallinen. Takapihalta löytyy jopa tehtaanjohtajan silmäterä: rehevät rivistöt chikoo-hedelmäpensaita.
Palmut ja paikalliset hedelmäpensaat ovat tulleet tutuiksi myös tiimillemme Helsingissä, sillä tavallisesti vierailemme tehtaallamme Etelä-Intiassa, Tamil Nadun osavaltiossa noin neljä tai viisi kertaa vuodessa. Tarkoin valittu kumppanimme TULI trading huolehtii puolestaan tuotannosta Bangladeshissa, jonne laajensimme toimintaamme tuotantokapasiteetin kasvun myötä. (Voit lukea lisää tuotantomaan valinnasta blogikirjoituksestamme täältä.)
Koronan rajoitettua matkailua, emme ole päässeet tavalliseen tapaan matkustamaan tehtaillemme viimeisen vuoden aikana, mutta pidämme yhteyttä tiiviisti.
Emme tuota vaatteitamme vain ekologisesti vaan huomioiden myös sosiaalisen vastuun. Jokaista työntekijää kohdellaan oikeudenmukaisesti ja huolehdimme kaikkien hyvinvoinnista.
Arvioiden mukaan keskimääräinen työpäivä tuotantomaissa on hurjat 14-16 tuntia päivässä. Normaalin työpäivän pituus tehtaallamme on yhdeksän tuntia, mukaan lukien lounastauko ja kaksi teetaukoa. Kun lämpötila on korkeimmillaan on päivän aikana useampia taukoja. Ylityöt ovat aina vapaaehtoisia ja niistä maksetaan aina korvaus.
Miellyttävät työolosuhteet on otettu huomioon muun muassa ilmastoinnilla ja katon eristyksellä lämpötilan säätelemiseksi. Tehdasrakennukset on suunniteltu ja rakennettu teollisuuskäyttöön turvallisen työympäristön takaamiseksi. Tehdasalueella on varjoisa ruokala, jonne on mahdollisuus mennä viettämään taukoja. Kuljetus kaupunkiin tehtaalta taittuu pienellä bussilla. Kauempaa tulleille työntekijöille tarjotaan tarvittaessa majoitus tehdasalueelle rakennetuissa asunnoissa, joiden edustalla työntekijät usein viettävät yhdessä iltaa musiikin raikuessa.
Jokaiselle joka työskentelee kanssamme kirjoitetaan työsopimus ja maksetaan kuukausittain oikeudenmukainen ja tasapuolinen palkka. Alaikäisiä työntekijöitä ei sallita.
Työntekijöiden sosiaalikulut korvataan ja terveydenhoito ostetaan paikallisesta yksityisestä sairaalasta.
Venkat (kuvassa keskellä) on Pure Wasten Intian tehtaan johtaja. Venkatin positiivinen asenne ja lämmin hymy tarttuu helposti jokaiseen. Hän on työskennellyt vaateteollisuuden parissa koko elämänsä. Tällä hetkellä hän huolehtii tehtaamme päivittäisistä toiminnoista ja tuotteiden laadusta. Hän uskoo että laadukkaat tuotteet syntyvät tyytyväisten työntekijöiden käsissä, siksi hänelle on erityisen tärkeää huolehtia työntekijöiden hyvinvoinnista.
Venkat kertoo olevansa aamuvirkku; hän herää joku aamu joogaamaan ennen töihin lähtöä. Venkat on myös innokas maanviljelijä, joka selittää aiemmin mainitut tehdasalueen hedelmäpensaat. Hänen koko perheensä työskentelee tehtaalla: vaimo ja kaksi poikaa. Hän toivoo, että jonain päivänä hänen lapsensa jatkaisivat tehtaan toimintaa. "Tuntuu hyvältä että teemme jotain hyvää ympäristön puolesta", hän hymyilee.
Jagannath Mishra on työskennellyt tehtaalla kaavojen leikkaamisen parissa usean vuoden ajan. Hänen mielestään parasta työssä ovat ystävälliset työkaverit. Kysyttäessä missä hän näkee tekstiiliteollisuuden sadan vuoden päästä, hän ei osaa kertoa, mutta toivoo että kierrättämällä voisimme tehdä lisää hyvää. Hän toteaa "teemme hyvää työtä säästämällä vettä tuleville sukupolville."
Vivian pakkaa valmiit tuotteet kuljetusta varten kohti Helsinkiä. Tapasimme Vivianin lounaalla, jolloin hän vitsailikin, että työssä parasta täytyy olla tauot. Vivian asuu läheisessä kylässä perheensä kanssa. Työpäivien jälkeen hän viettää mielellään aikaa veljiensä kanssa, mutta kaikki keskiviikkoillat hän pyhittää ystäviensä tapaamiselle.
Kuinka sinä voit olla osa vallankumousta?
Muoti on halvempaa kuin koskaan aiemmin ja sen vauhti on johtanut turvattomiin työoloihin ja työvoiman hyväksikäyttöön. Kuinka vaateteollisuuden tulisi sitten muuttua?
Alati vaihtuvista trendeistä tulisi luopua, ja tuotteiden hinnoittelun muuttua reiluksi kaikkia kohtaan. Lainsäädännön tulisi ennaltaehkäistä ihmisoikeusloukkauksia yritysten alihankintaketjuissa.
Muutos vaatii parannuksia vaateteollisuuden toimijoiden lisäksi myös kuluttajilta. Ei tulisi ajatella, että yksittäisillä valinnoillamme ei olisi juurikaan merkitystä. Kuluttajina meidän tulisi ostaa vähemmän ja laadukkaampia tuotteita, sekä pitää vaatteistamme hyvää huolta, jotta ne kestäisivät käytössä mahdollisimman pitkään. Painavin vastuu on aina tuottajilla, mutta valitsemalla hyvin, kysymällä ja kyseenalaistamalla jokainen meistä voi vaikuttaa.
Tällä viikolla sinulla onkin mahdollisuus kysyä "kuka valmisti vaatteeni?" (eng. "who made my clothes?"). Pue valitsemasi vaate päällesi nurinpäin, ota kuva ja jaa se sosiaalisen median kanavissasi hashtageilla #WhoMadeMyClothes ja #Vaatevallankumous, ja tägää tuotteen valmistanut yritys kuvaasi! Kuvan voi lähettää myös suoraan vaatteen valmistaneelle yritykselle ja kysyä heiltä suoraan, kuka sen on tehnyt.
Who made my clothes?
People often think of new clothes as little more than harmless pampering and a way to express themselves. It occurs to few people that fashion has another, dark side, which causes many problems, from the burden on the environment to human rights issues.
This year marks eight years since the eight-storey Rana Plaza factory building collapsed in Dhaka, Bangladesh on 24 April 2013. The accident claimed the lives of over 1,100 workers and left 2,500 injured.
The factory building disaster started the Fashion Revolution, which aims to make the garment industry more responsible and transparent.
Producing high-quality recycled garments with consideration of both our ecological and social responsibility is extremely important for us. We also tell the world about what we do openly.
The real price of a garment
About 75 million people work in the garment industry globally. Most of them live in poverty.
When buying new clothes we rarely stop to think what someone else has done for a certain garment. First, the raw material is produced, from which fibre is manufactured. After that, the fibre is spun into yarn and woven into fabric. After finishing, the fabric moves on to the sewing workshop, where it is sewn into garments. Finally, the clothing is transported to its destination for marketing and sales.
A T-shirt which costs around a couple of euros should set alarm bells ringing: everyone in the supply chain could not have been fairly compensated for the labour.
However, price alone does not define how responsible a product is, nor does responsible fashion have to strain the purse strings. People often ask us how our T-shirts can cost just €19.90. We are responsible for the fabric manufacturing ourselves, and our production process does not have any unnecessary middlemen, which is why we can keep the price of Pure Waste products competitive while ensuring responsible production.
Who made your Pure Waste clothes? Vivian, Jagannath, Venkat — and many others!
The road twists through colourful landscapes, and as you arrive in the factory yard you could hardly believe you are arriving at a sewing factory: there are beautiful palm trees and a calm atmosphere. The rear yard even has the apple of the factory director's eye: lush rows of chikoo fruit bushes.
Our Helsinki team has also become familiar with the palms and fruit bushes, as we usually visit our factory in Tamil Nadu state in southern India four or five times a year. Our carefully chosen partner, TULI Trading, handles for its part production in Bangladesh, where we have expanded our operations to expand production capacity. (You can read more about our choice of manufacturing country in our blog post here.)
Pandemic travel restrictions have kept us from travelling to our factory as usual in the past year, but we keep in close contact.
We do not just produce our garments ecologically: we also take our social responsibility into consideration. Every worker is treated fairly, and we look after the welfare of all.
The estimated average working day in countries of production is a shocking 14–16 hours. The normal working day in our factory is nine hours, including a lunch break and two tea breaks. When the temperature is at its highest, the employees have several breaks during the day. Overtime is always voluntary and compensated.
Pleasant working conditions have also been considered in solutions such as air conditioning and heat insulation of the ceiling. The factory buildings were designed and built for industrial use to secure a safe working environment. The factory area has a light-filled canteen where workers can take breaks. A small bus shuttles workers between the city and the factory. Workers who come from further afield are offered accommodation in rooms built in the factory area, in front of which workers often spend the evening together listening to music.
Everyone who works with us signs an employment contract receives a fair, decent salary every month. The hiring of minors is not allowed.
Workers' social contributions are paid and healthcare services are procured from a local private hospital.
Venkat (in the middle in the picture) is the director of the Pure Waste factory in India. Venkat's positive attitude and warm smile are infectious. He has worked in the garment industry all his life. At present, he is responsible for the daily running of our factory and for product quality. He believes that quality products are made in the hands of satisfied workers, which is why looking after workers' welfare is particularly important to him.
Venkat says he is an early bird: he wakes up to do yoga every morning before going to work. He is also a passionate farmer, which explains the fruit bushes in the factory area mentioned above. His whole family works at the factory: his wife and two sons. He hopes his children will continue running the factory one day. "It feels good to be doing something for the environment," he says with a smile.
Jagannath Mishra has worked at cutting the patterns in the factory for several years. In his opinion, the best thing about his job is the friendly colleagues. When asked where he sees the textile industry in a hundred years, he cannot answer, but hopes that we can do more good through recycling. He says, "We're doing good work by saving water for future generations."[1]
Vivian is packing completed garments for transport to Helsinki. We meet Vivian at lunch, where she jokes that the breaks must be the best thing in her job. Vivian lives in a nearby village with her family. After the working day, she likes to spend time with her brothers, but she devotes every Wednesday evening to meeting her friends.
How can you be a part of the revolution?
Fashion is cheaper than ever before, and its speed has led to dangerous working conditions and abuse of workers. So how should the garment industry change?
It has to give up constantly rotating trends and change the pricing of clothing to make it fair for everyone. Legislation should prevent human rights abuses in companies' subcontracting chains.
This change demands improvements from consumers, as well as garment industry players. We should not think that our individual choices mean nothing. As consumers, we should buy higher quality, but in smaller amounts, as well as take good care of our clothes so they last for as long as possible The producers always bear the greatest responsibility, but by choosing well, asking and questioning, each of us can make an impact.
This week you have the chance to ask, "who made my clothes?" Put on a garment of your choice inside out, take a picture, share it on social media with the hashtags #WhoMadeMyClothes and #FashionRevolution, and tag the product manufacturer! You can also send the picture directly to the company that made the garment and ask it directly who made the garment.